Koi Pharma® Bacterial Control Koi Food
Regular price
$64.99 USD
Sale price
$50.00 USD
Unit price
per
Sale
Sold out
View full details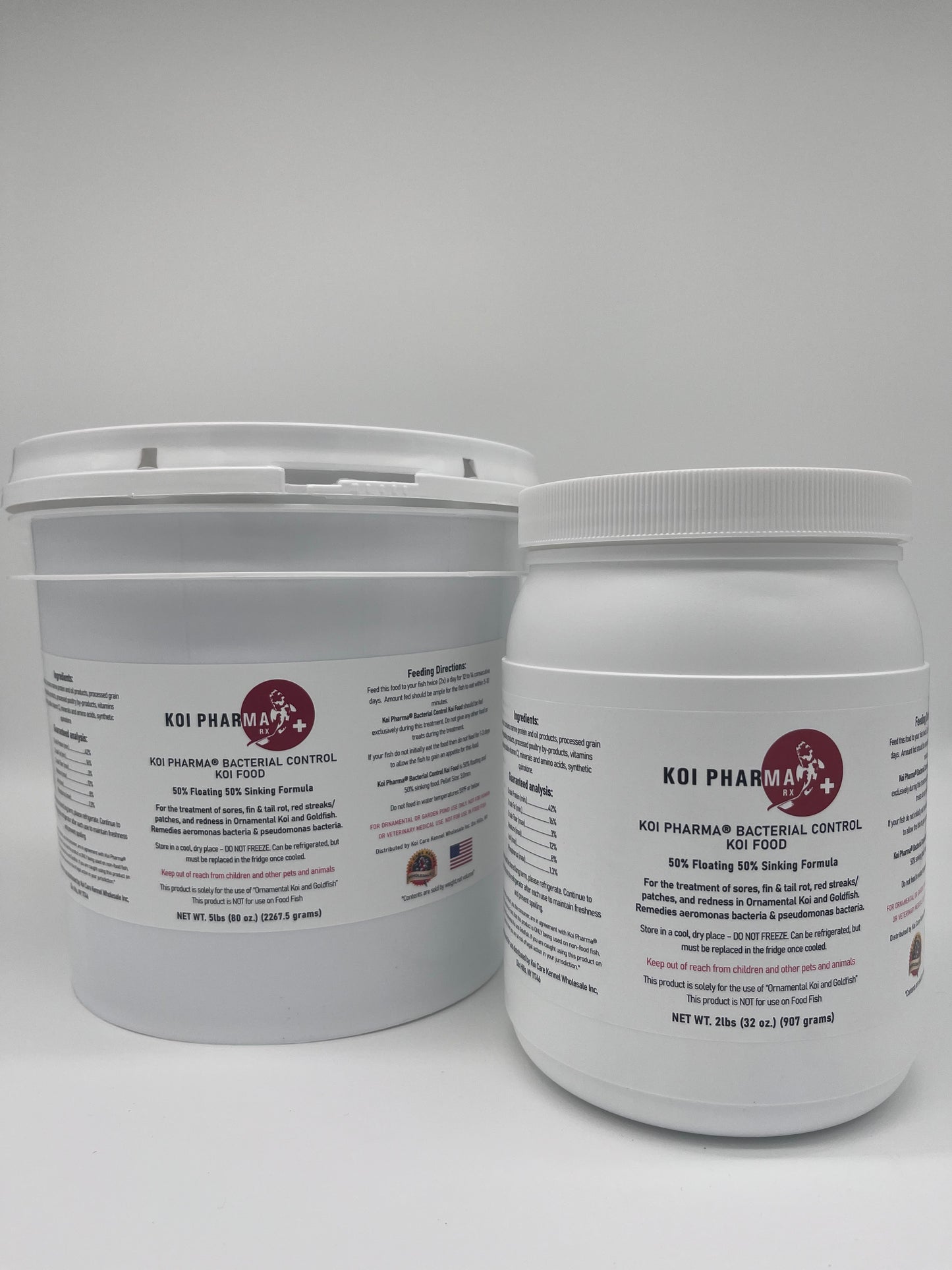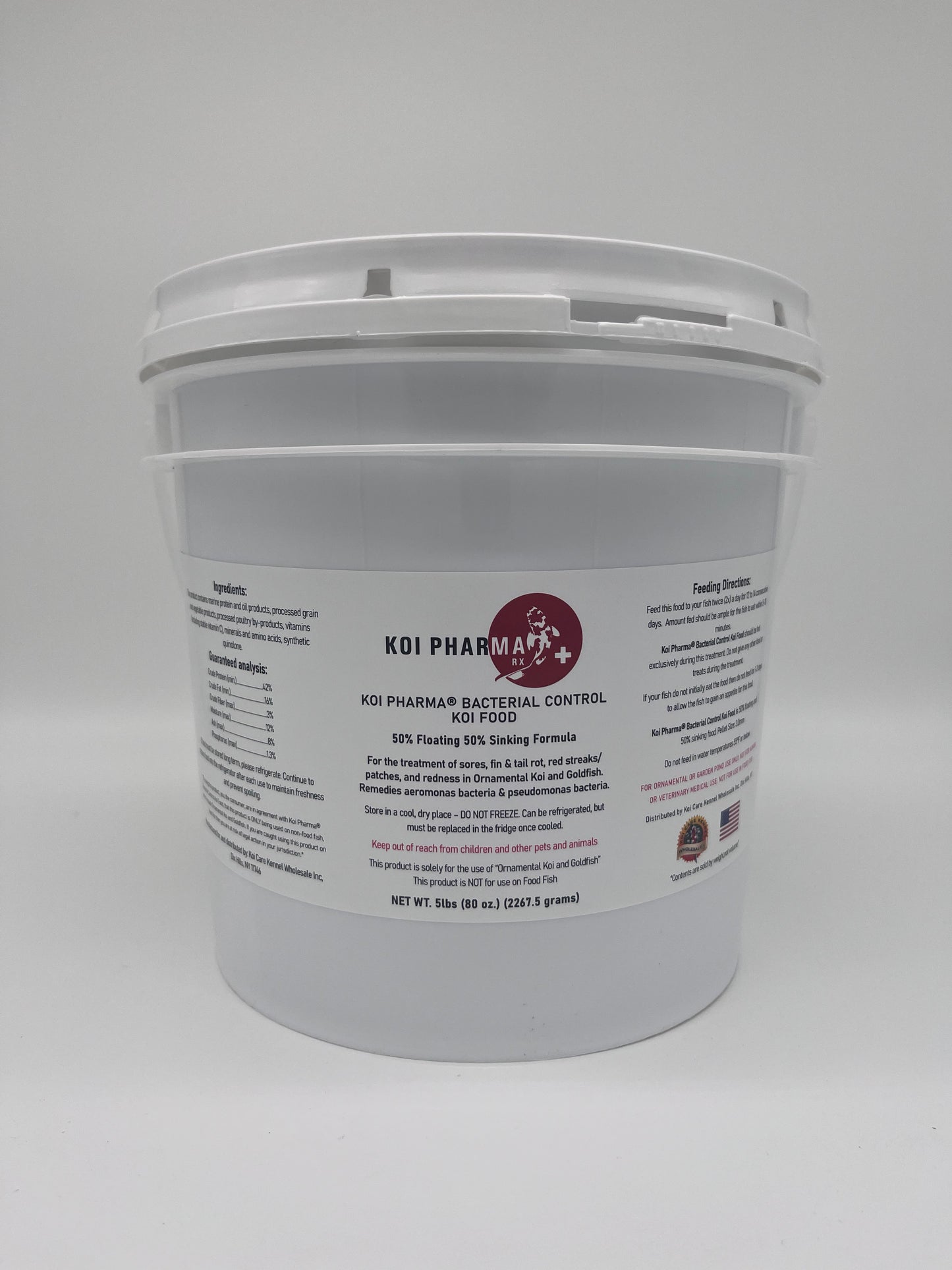 DESCRIPTION
Koi Pharma® Bacterial Control Koi Food
The only combination sinking and floating bacterial food on the market that helps fish eat at the surface and at the bottom of your pond/tank.

The #1 food for the treatment of sores, fin & tail rot, red streaks/patches, and redness in ornamental Koi & Goldfish.

Made Fresh to order

The preeminent remedy on the market for aeromonas and pseudomonas bacterial issues.

Koi Pharma Bacterial Control Koi Food will not harm biofilters or aquatic plants.

Works quickly, a fourteen (14) day treatment is usually all it takes to turn around the most stubborn of bacterial infections.
Feeding Directions
Feed this food to your fish twice (2x) a day for 12 to 14 consecutive days. Amount fed should be ample for the fish to eat within 5-10 minutes.

Koi Pharma® Bacterial Control Koi Food should be fed exclusively during this treatment. Do not give any other food or treats during the treatment.

If your fish do not initially eat the food then do not feed for 1-3 days to allow the fish to gain an appetite for this food.

Koi Pharma® Bacterial Control Koi Food is 50% floating and 50% sinking food. Pellet Size: 3.0mm

Do not feed in water temperatures 55F or below
Conditions for Best Results
Works Great in conjunction with Koi Pharma Pure Nitro Full Pond Bacterial Treatment.


If food must be stored long term, please refrigerate. 

Continue to replace food into the refrigerator after each use to maintain freshness
Use Warning
FOR ORNAMENTAL OR GARDEN POND USE ONLY. NOT FOR HUMAN OR VETERINARY MEDICAL USE. NOT FOR USE IN FOOD FISH

By using this product, you, the consumer, are in agreement with Koi Pharma® Bacterial Control Koi Food, that this product is ONLY being used on non-food fish, which include Ornamental Koi and Goldfish. If you are caught using this product on food fish then you are at risk of legal action in your jurisdiction.

Contents are sold by weight, not volume

Store in a cool, dry place – DO NOT FREEZE. Can be refrigerated, but

must be replaced in the fridge once cooled.

Keep out of reach from children and other pets and animals
Ingredients
This product contains marine protein and oil products, processed grain and vegetable products, processed poultry by-products, vitamins (including stable vitamin C), minerals and amino acids, synthetic quinolone.
Guaranteed Analysis
Crude Protein (min.).................................42%
Crude Fat (min.).......................................16%
Crude Fiber (max)....................................3%
Moisture (max).........................................12%
Ash (max).................................................8%
Phosphorus (max)....................................1.3%
Sizes